Unique and High-Tech Japanese Bathrooms in Umeda, Osaka
Unique and High-Tech Japanese Bathrooms in Umeda, Osaka
2021.10.04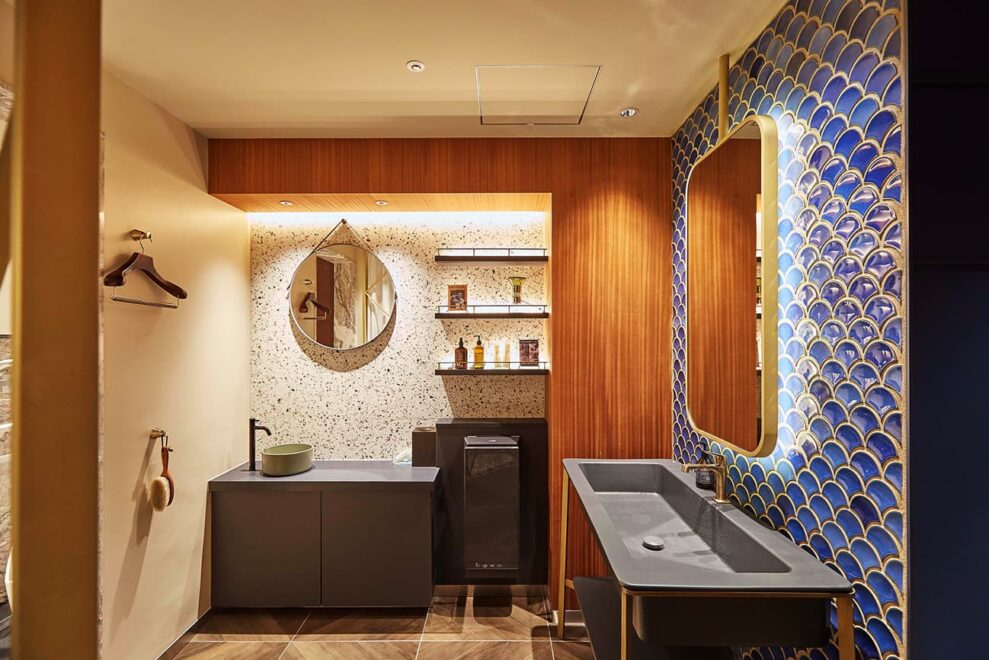 Even if you're never been to Japan before, you've probably heard at least once that a trip to a restroom here might be a slightly different experience than what you've experienced in your home country. In fact, it might just border on culture shock! But not to fear: the surprises here are positive, as Japan is home to some pretty high-tech bathroom features, and if you're lucky, some restrooms can seem downright luxurious. The next time you're in Osaka's Umeda area, take a visit to these: some of the techiest, and most unique, beautiful bathrooms in Umeda.
Before exploring Umeda, what exactly is it that makes many restrooms in Japan stand out?
Peak Privacy
You'll be hard-pressed to find a stall door with huge gaps at the top and bottom like in much of North America, for example. Instead, doors on many toilets in Japan reach from floor to high up towards the ceiling, so you'll really feel that you're in your own private space.
It's also not uncommon to find a technological solution for those shy about making noise in public restrooms: in some, you'll find a button that may be marked with musical notes. This feature is called "Otohime" (literally, "sound princess"). When you press the button, a short recording of flushing—sometimes accompanied by birdsong!—will play to mask any embarrassing noises. It's a convenience you may not even have known you'd appreciate!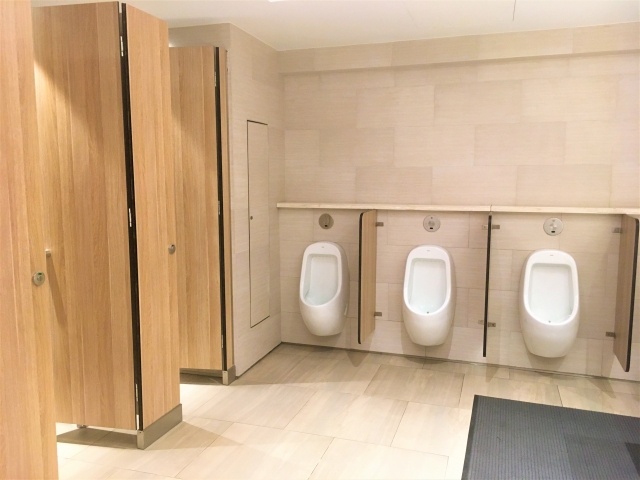 A Whole Panel of Buttons
While not every toilet comes equipped with one of these, it's not uncommon to be presented with a whole panel of buttons in a stall, either on the wall or on a panel connected to the toilet. The impression is futuristic, if nothing else, but it can be a little overwhelming if you're not used to it. Most of the buttons should have an icon to illustrate their function, or even some English writing, but typical options include several types of bidet, controls for water pressure (stronger or weaker), and an on/off button for Otohime sounds. Heated seats are also a common function. More like a TV remote than a toilet, even flushing usually comes with options: a "small" or "large" flush!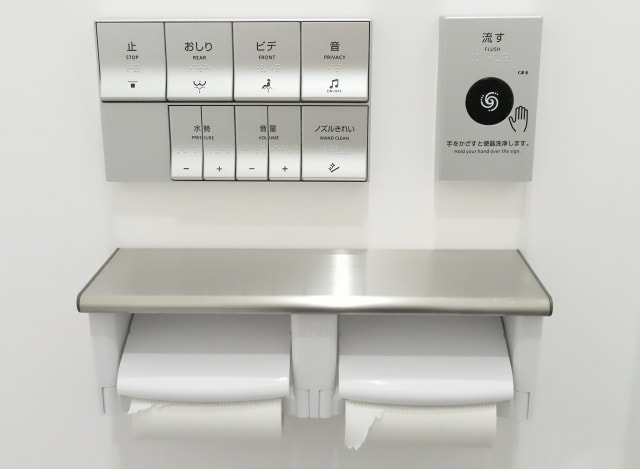 All the Automation
There's something that feels like a kind of high-tech hospitality when things start moving without you needing to lift a finger. Japan may inspire an image of techy robots, and when you actually visit, it may feel like there's some truth to that! In public restrooms in Japan, you're much more likely to find automated features like seat lids that open and close automatically when you open a stall door, or touchless faucets, soap dispensers, and hand dryers. These may have been convenient features to begin with, but in a world that's now more germ-aware than ever before, they're especially appreciated.
Sparkling Cleanliness
Simply clean! In many places, a visit to a public restroom can be a dicey experience, but at public facilities in Japan, you're much more likely to encounter a space that's spotlessly clean: a simple pleasure, but one that makes your experience as a traveller much more pleasant.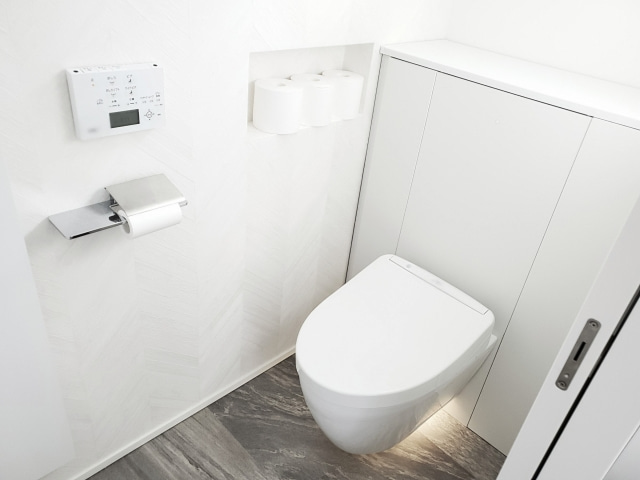 Extra Features for Ladies
Some Japanese restrooms come with even more unexpected features, particularly in the ladies' room. Depending on the restroom, these changes can begin within the bathroom stall itself: you might find a square board attache to the wall, near its base. If you've never seen one of these before, and especially if you come from a culture where shoes are not exchanged for slippers indoors, at first glance, it might be difficult to figure out what this little board is here for. This is a changing board, or "kigaedai," but not the kind for infants!
As it turns out, the private little space of a bathroom stall is also perfect for a quick clothing change in a pinch, but most of them aren't built with this purpose in mind. Even if you need to change, stepping onto the floor in your bare or stocking feet isn't the most comfortable option. This is where the changing board comes into play: pull the board down so that it's perpendicular to the floor, slip out of your shoes, and you can change in comfort.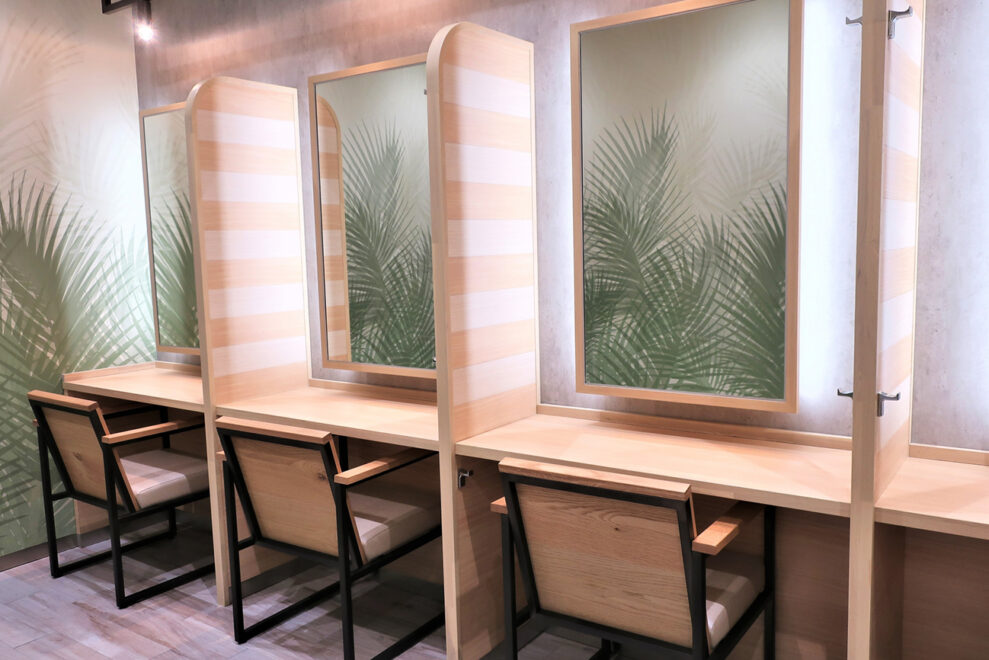 Another feature you might find in the larger restrooms in facilities like shopping malls, including those in Umeda, is an adjacent powder room in the women's restroom. These can range from a modest line-up of mirrors for hair and makeup adjustments that free up use of the sinks, to some more extravagant rooms with beautiful decor, chairs, and even occasionally some features like power outlets for hair irons and phone chargers.
There are some beautiful powder rooms hidden around Umeda, too—read on to find out where they are!
Usability for All!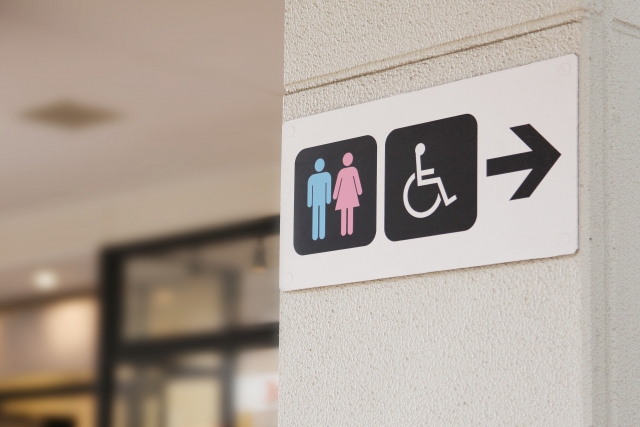 Though not available in all the restrooms you'll come across, a surprising number of restrooms in public facilities in Japan feature toilets with universal design features. These can include multi-purpose seats, ostomate-compatible toilets, and wheelchair-friendly toilets. Many of these stalls are spacious enough to include their own sink and mirror, at a height that's usable for all.
Unique Bathrooms and Powder Rooms you need to visit in Umeda!
On your next stop in Umeda, while you're enjoying one of the most extensive shopping areas in Western Japan, you need to stop by these: some of the most unique, and even beautiful restrooms and powder rooms in Umeda!
GRAND FRONT OSAKA South Hall (Minami-kan), 3rd Floor Restroom, Powder Room, and Lounge Area
When you're perusing the shops in GRAND FRONT OSAKA, the third floor restroom and powder room is the perfect rest stop for ladies. The softly lit powder room features individual stations with illuminated mirrors and wicker chairs, perfect for a touch-up.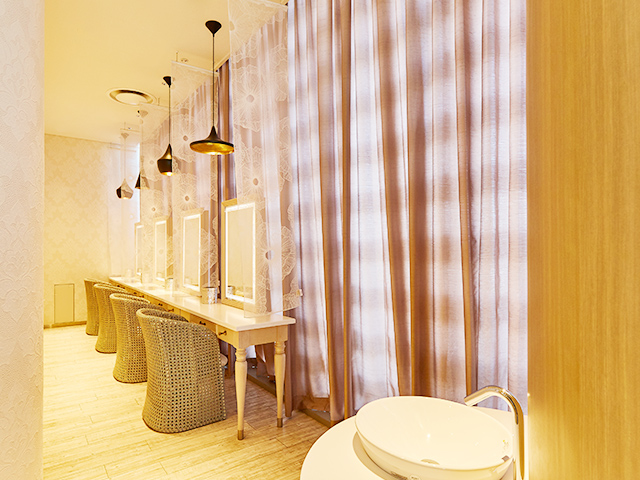 But before you even enter the restroom itself, you'll find a beautifully relaxing lounge area, complete with wingback armchairs, colorful cushions and study-like decor, all looking out on a grand view of Osaka City. This is luxury indeed!
For more information about GRAND FRONT OSAKA, see here.
HERBIS PLAZA ENT, 6th Floor Restroom & Powder Room
For another unique rest stop on your shopping trip around Umeda, head to the HERBIS PLAZA ENT shopping mall. On the 6th floor, you'll find a powder room that will make you think you've entered a luxury salon. Take a rest on the sofa in the center of the room, or make use of the vanities, most of which feel almost like private booths with their dark wood partitions.
For more information about HERBIS PLAZA ENT, see here.
HERBIS PLAZA, 2nd Floor Gentlemen's Lounge
But men aren't excluded either! On the second floor of HERBIS PLAZA, you'll find the Gentlemen's Lounge, for your own luxury bathroom experience as you go shopping in Osaka.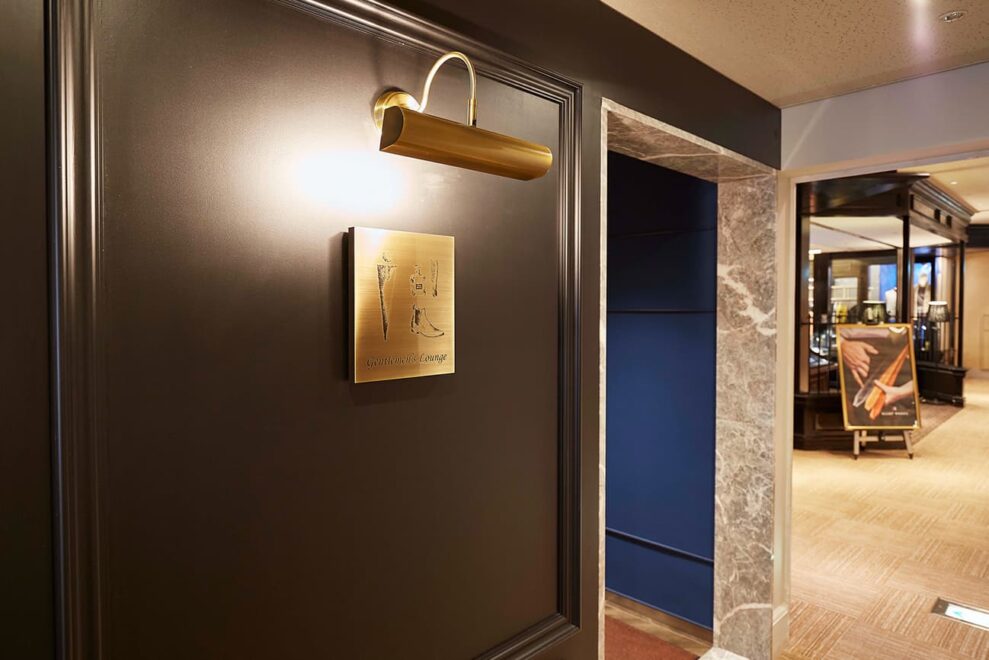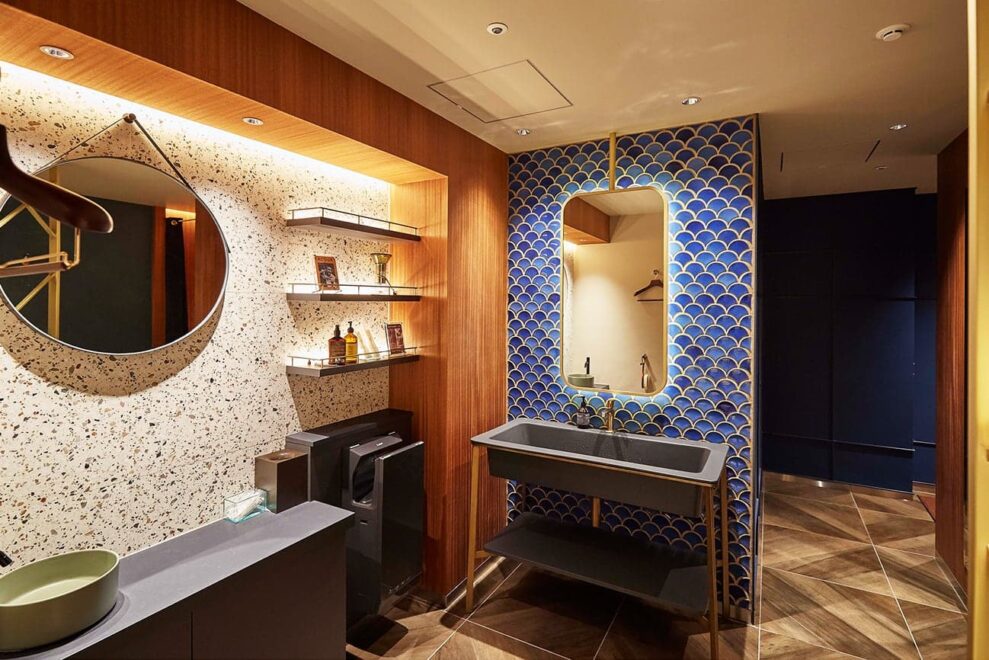 Aside from its unusually stylish decor, you'll even find amenities like shoe polish and hair wax in this lounge! It's a truly unique space, designed to give a sense of sophistication, as well as relaxation in the midst of your busy day.
For more information about HERBIS PLAZA, see here.
Restrooms with Universal Design in Mind
Of course, on your shopping trip in Umeda you can also find not only beautiful restrooms, but restrooms with features that make them accessible for all kinds of customers, including those that need wheelchair-friendly or ostomate-friendly facilities. You can find restrooms like these in GRAND FRONT OSAKA (on each floor except the 1st floor by Umekita Plaza) and Diamor Mall.
See these pages for more information about GRAND FRONT OSAKA and Diamor Mall.
Wherever you head to, restrooms in Japan are sure to offer some features you may be unaccustomed to, and if you stop by some of the incredible Umeda restrooms and lounges we've listed here, the experience can verge on the luxurious!
As you plan your rest stops, and before you head out for some shopping, be sure to take a look at our coupons, which can be used at all of the Osaka, Umeda area shopping malls mentioned here.
*Information in this article is accurate as of the date of posting. There is a possibility that details regarding these products and services have changed, or that some shops have since closed.
An Upscale Shopping Experience
Why Umeda is Osaka's
shopping destination
Coupons
All Mall Coupon
500 yen off
This coupon can be used in the following 6 shopping malls: :
GRAND FRONT OSAKA SHOPS & RESTAURANTS, HANKYU SANBAN GAI,
HEP FIVE, HERBIS PLAZA/PLAZA ENT, NU chayamachi / NU chayamachi PLUS and Diamor Osaka