FERRIS
WHEEL
Ferris Wheel Information
360°PANORAMA
360°PANORAMA
Enjoy an amusement park feeling
in the middle of downtown Osaka.
Experience a 360-degree panorama
together with a day out shopping.
The red Ferris wheel is a symbolic Osaka landmark:
you can only experience this iconic attraction at HEP FIVE.
Get a breathtaking view of the Osaka cityscape,
totally different between the day and night.
On clear days you can see as far as Akashi-Kaikyo
Bridge in the east and Mt. Ikoma in the west,
while at night the lights of the city sparkle like fireflies.
An unforgettable view of the Osaka cityscape!
PHOTOGRAPH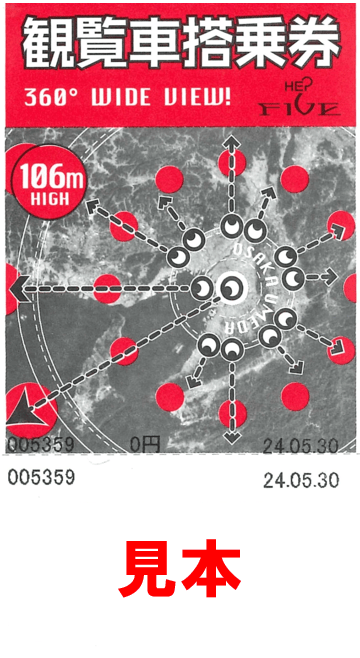 Services available with your Ferris wheel ticket!
By displaying either your Ferris wheel ticket stub, a Ferris wheel advance ticket, or an Osaka Amazing Pass, you can avail of discount services or other special offers at some HEP FIVE stores.
Riding the Ferris wheel
Price
¥600 per person (free for children under 5)
Opening hours
11:00 a.m. – 10:45 p.m.
(Last boarding time)
Inquiries
+81-6-6366-3634
Various discounts

If you show a Hankyu Hanshin Odekake Card, you can get a ¥100 discount on your Ferris wheel ride.
* STACIA card holders are eligible for the same discount.
* This cannot be used in conjunction with other discount services.
FERRIS
WHEEL
DATA
Diameter: 75 m
Height: Around 106 m
No. of cars and capacity: 52 four-person cars
Time: Roughly 15 minutes per lap
All cars are fully air conditioned