The 5 Best Men's Fashion Stores in Umeda, Osaka: Find your way with our guide
The 5 Best Men's Fashion Stores in Umeda, Osaka: Find your way with our guide
2023.07.19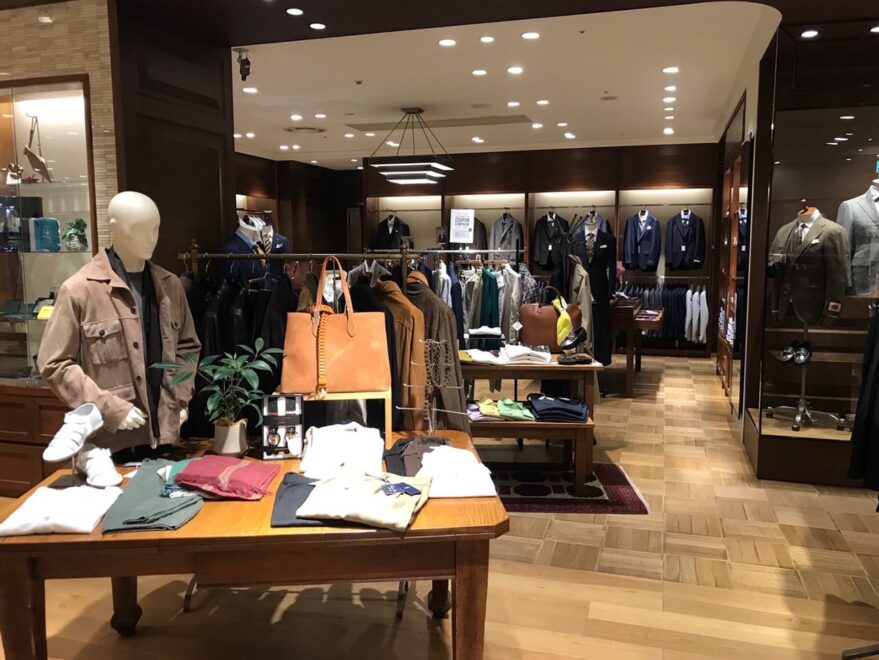 You may think that shopping is something that's mostly enjoyed by women. But in the Umeda area in the center of Osaka, you can find a great number of apparel stores for men.
Here, we'll take a look at five fashion stores for men, perfect to help you get to know some of Japan's popular brands. Whether you're looking to change up your look entirely or just add something new to your closet, you're sure to find what you're looking for in these shops.
URBAN RESEARCH DOORS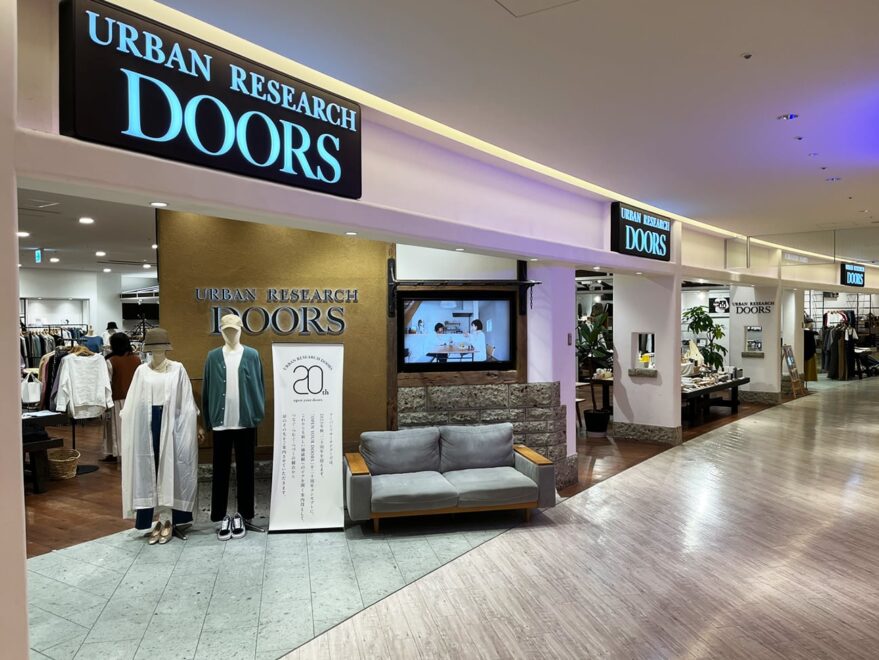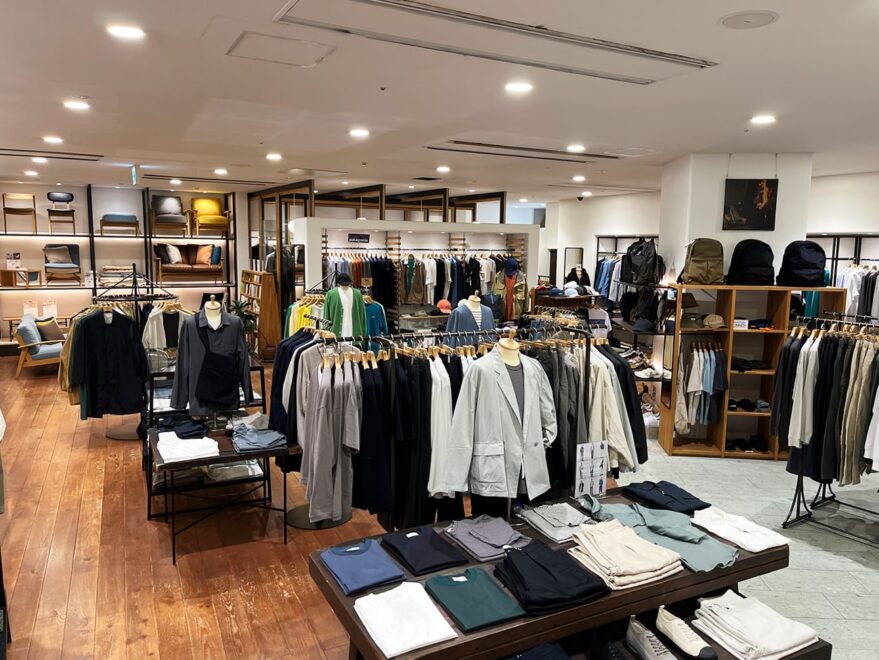 URBAN RESEARCH DOORS is a fashionable yet casual clothing brand that offers simple, high-quality clothing. The garments here focus on practicality as well as comfort, making it easy to find clothes for a variety of occasions. There is also a collection of shoes and accessories in the store, so you're covered from head to toe. In Japanese culture, a man who gives off an air of fresh carefreeness is often described as "shio-kei" (literally, "salty," as opposed to the intensity of a stronger flavor like soy sauce), and it's just this type of man with whom URBAN RESEARCH DOORS is popular. Don't miss this brand if you'd like to try out this kind of "shio-kei"-style fashion for yourself!
Mall: GRAND FRONT OSAKA SHOPS & RESTAURANTS
Floor: South Building 4F
Business Hours: 10:00 a.m. - 9:00 p.m.
SHIPS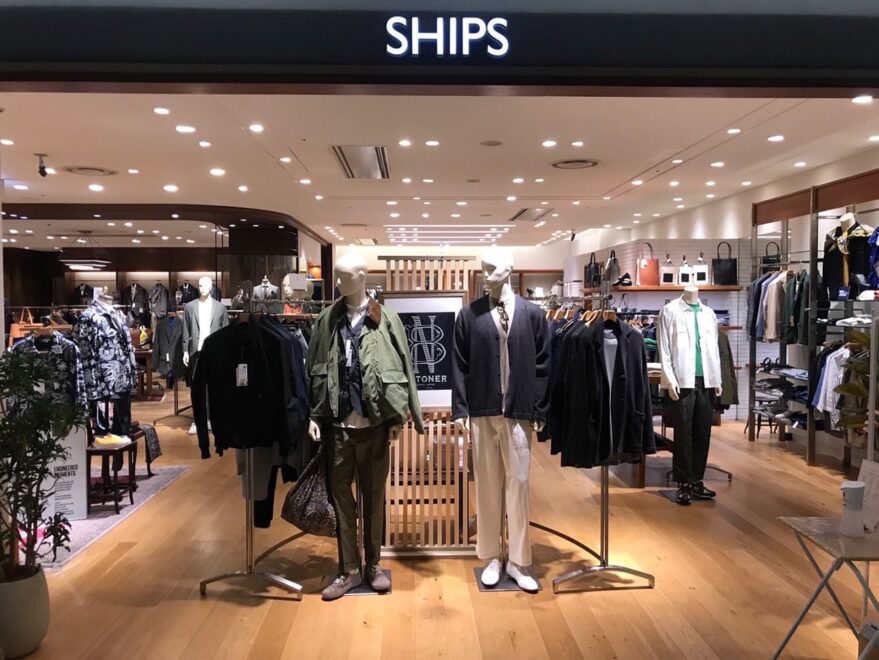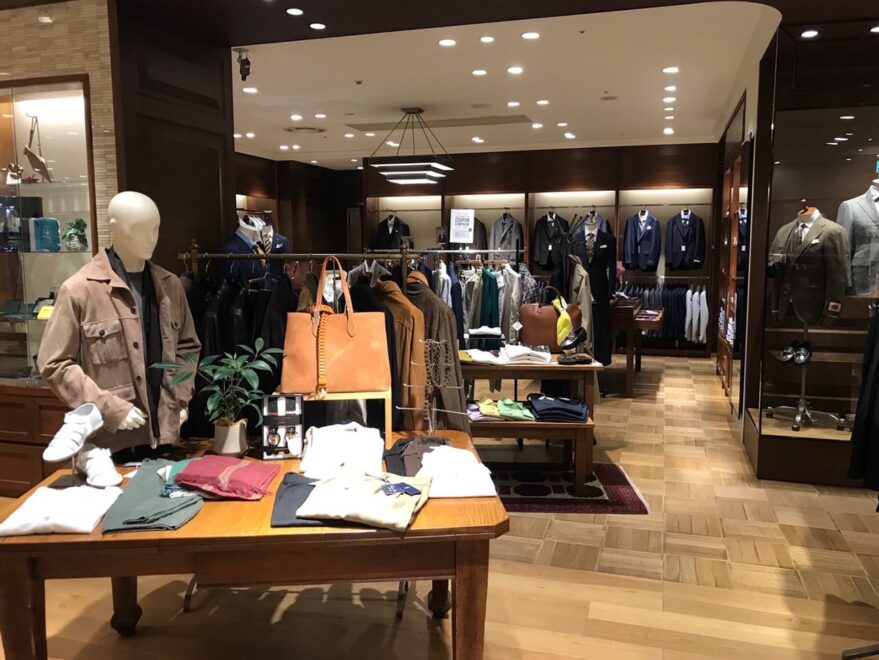 A well-known brand in Japan, SHIPS offers a variety of fashions and is considered one of the most popular brands for men's clothing by some of Japan's most stylish. You can find clothing that will work well for both formal and casual, everyday situations. SHIPS is also committed to quality in its products, so you can enjoy the ultimate in comfort as you wear them and express yourself.
SHIPS is located in the same mall as URBAN RESEARCH DOORS, GRAND FRONT OSAKA SHOPS & RESTAURANTS, where the shops are located on the 3rd and 4th floors, respectively, so it's easy to visit both in one go.
Mall: GRAND FRONT OSAKA SHOPS & RESTAURANTS
Floor: South Building 3F
Business Hours: 11:00 a.m. - 9:00 p.m.
Where is GRAND FRONT OSAKA?
GRAND FRONT OSAKA, a landmark in Umeda, Osaka, is very easy to locate. If you walk from JR Osaka Station's Central Exit or from the Central Exit of Hankyu Umeda Station, you'll see the unique glass-walled building of GRAND FRONT OSAKA facing Umekita Square. GRAND FRONT OSAKA is composed of a South Building and a North Building, and all of the stores we've introduced here are located in the South Building, so make sure to head to the right building.
See access information for GRAND FRONT OSAKA SHOPS&RESTAURANTS
JACOB COHEN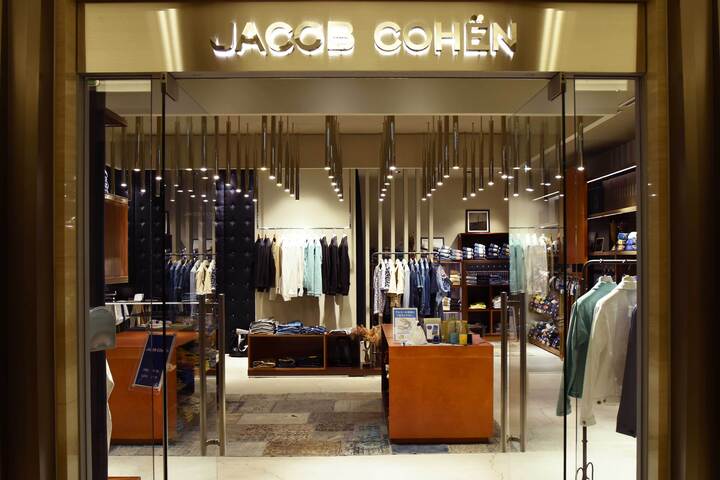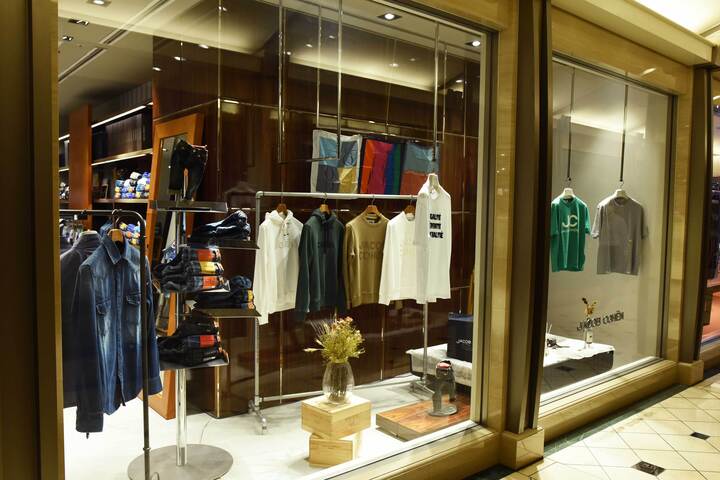 Jacob Cohen was born in Pontelongo (Padua), Italy in 1985. The current Jacob Cohen style was formed in 2003, the so-called "denim age."
Jacob Cohen pants have stunning leg lines, with three-dimensional cutting and tailoring reminiscent of Italian pantaloons. These pants make the leg look perfectly slim thanks to careful ironing work that eliminates excess wrinkles and sagging on the inside of the thighs.
It's with these original features and a commitment to quality that Jacob Cohen express a brand concept that's entirely unique.
Mall: HERBIS PLAZA
Floor: 1F
Business Hours: 11:00 a.m. - 8:00 p.m.
Where is HERBIS?
HERBIS is located on the west side of Hanshin Osaka-Umeda Station. If you are coming from JR Osaka Station, exit from the Sakurabashi Exit, head south, and you'll find the mall right away.
HERBIS is divided into two shopping centers, HERBIS PLAZA and HERBIS PLAZA ENT, so be careful not to mix the two up.
See access information for HERBIS
Tabio MEN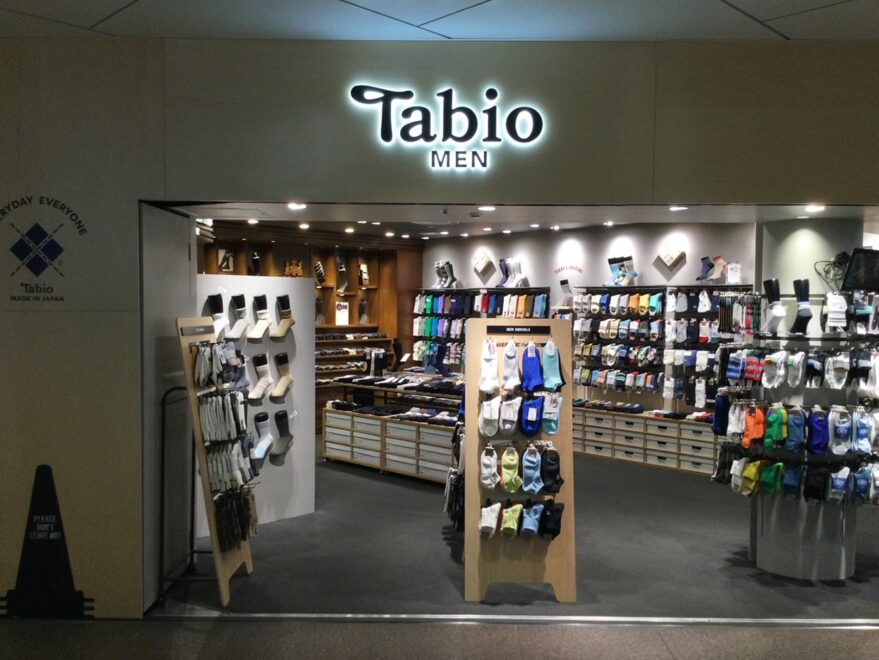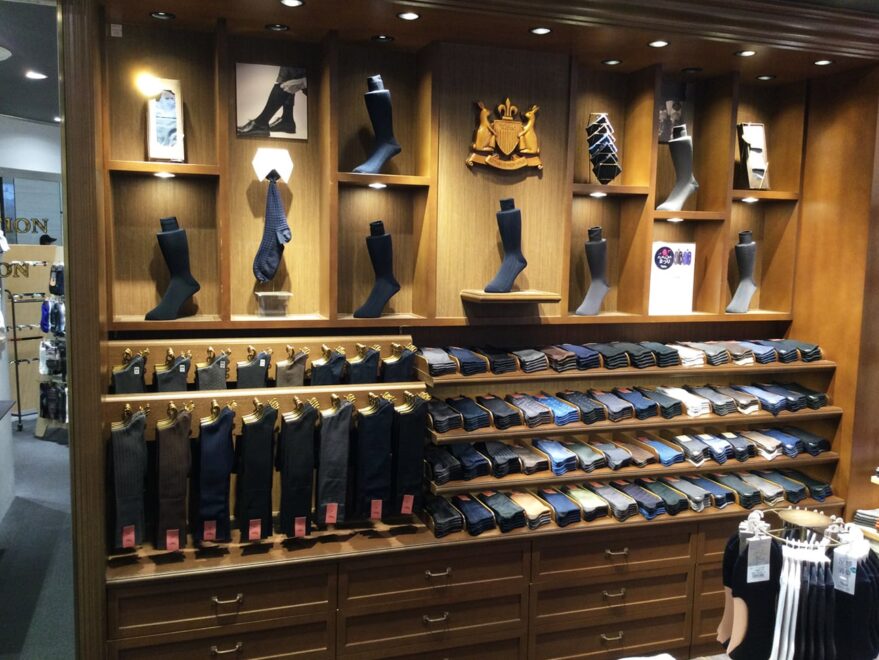 We've taken a look at some of the best men's clothing and jeans in Osaka, but now let's take a peek below the ankle. After all, a well-dressed man takes care in his appearance from head to foot!
A Japanese sock specialty store, Tabio is well-known for its long years in the footwear business. Tabio MEN, which specializes in men's socks in particular, can be found at only 6 locations in all of Japan! The HANKYU SANBAN GAI location is the only Tabio MEN in Osaka, where the shop opened in April 2016 and reopened on October 1, 2022. Tabio MEN offers a wide range of high-quality socks for men in a variety of colors and patterns. Tabio is also particular about the material their socks are made with, ensuring they're always very comfortable to wear. These socks can make the perfect item not only for yourself but also for a gift.
Mall: HANKYU SANBAN GAI
Floor: South Building 1F
Business Hours: 10:00 a.m. - 9:00 p.m.
Where is HANKYU SANBAN GAI?
Judging from its name, which implies a kind of shopping street, many people may mistakenly think that HANKYU SANBAN GAI is a street, but it's actually a shopping center inside the Hankyu Osaka-umeda Station building. You can enter HANKYU SANBAN GAI just after exiting Hankyu Osaka-umda Station. Even if you're make the journey on another train line, you can easily find the mall by following the signs and heading in the direction of Hankyu Osaka-umeda Station.
See access information for HANKYU SANBAN GAI
HARE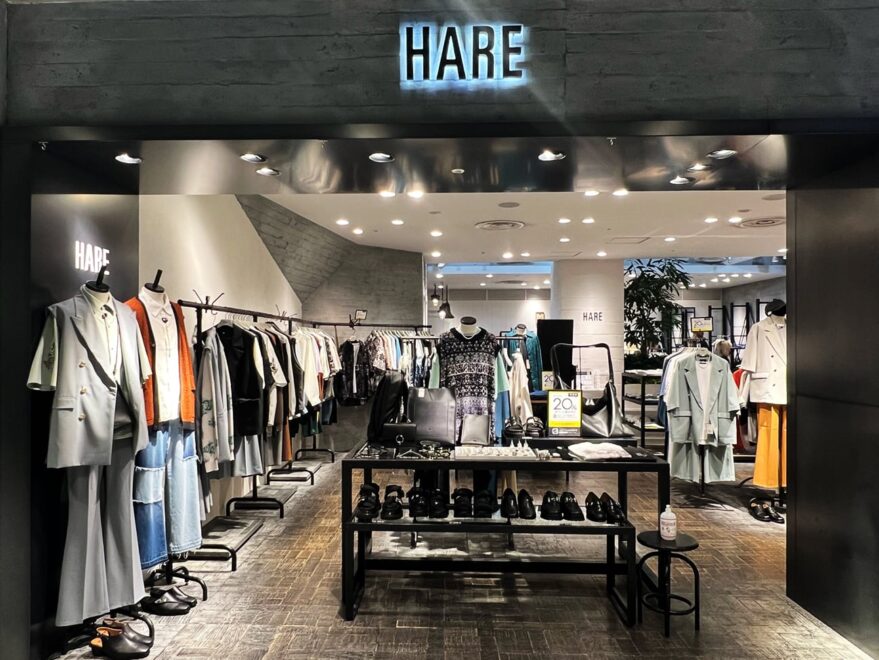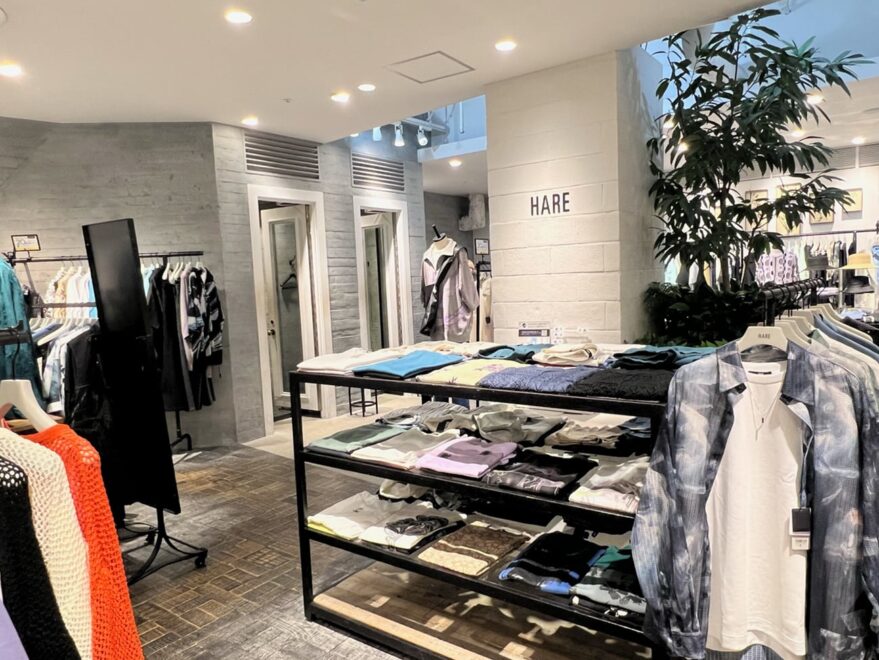 The street fashion brand HARE attracts many young people in Japan with its simple designs and affordable prices, and the brand often gathers attention in the fashion industry.
HARE's product designs are especially popular with men and women in their 20s and 30s. If you're a fan of street fashion, it's a shop you can't miss, and a great opportunity to put together a look to stand out from the crowd. Plus, HARE garments are of high quality, so you can buy them with confidence.
Mall: HEP FIVE
Floor: 5F
Business Hours: 11:00 a.m. - 9:00 p.m.
Where is HEP FIVE?
HEP FIVE is a building on the east side of Hankyu Osaka-umeda Station, at the foot of its giant ferris wheel. The layout of the Umeda area is a bit complex and it can be easy to get lost, but as long as you use the ferris wheel as a landmark, you'll be fine. There's also a takoyaki market here at HEP FIVE where you can sample some of Osaka's famous takoyaki dishes. See here for more information: A must-see new gourmet spot in Osaka Umeda in 2023! A Sightseeing Guide for Osaka Takoyaki Market
See access information for HEP FIVE
In addition to the ones we've mentioned here, there are many, many more shops where men can enjoy shopping in Umeda, the center of Osaka! Also, be sure to check out the great deals on this site before you go shopping!
If traveling to Osaka by bullet train, from Shin-Osaka Station you can access Osaka's Umeda district by JR train or by taking the Midosuji Subway Line to Umeda station.
If you are traveling from Namba Station, take the Midosuji or Yotsubashi Subway Line to Umeda or Nishi-Umeda Station, or take the Hanshin Namba Line to Osaka-umeda Station.
From Kansai International Airport, you can reach Osaka Station in about one hour on the JR Airport Express Haruka.
For more information on Umeda, check out some of our Trip Ideas.
*Information in this article is accurate as of the date of posting. There is a possibility that details regarding these products and services have changed, or that some shops have since closed.
An Upscale Shopping Experience
Why Umeda is Osaka's
shopping destination
Coupons
All Mall Coupon
500 yen off
This coupon can be used in the following 6 shopping malls: :
GRAND FRONT OSAKA SHOPS & RESTAURANTS, HANKYU SANBAN GAI,
HEP FIVE, HERBIS PLAZA/PLAZA ENT, NU chayamachi / NU chayamachi PLUS and Diamor Osaka