A must-see new gourmet spot in Osaka Umeda in 2023! A Sightseeing Guide for Osaka Takoyaki Market
A must-see new gourmet spot in Osaka Umeda in 2023! A Sightseeing Guide for Osaka Takoyaki Market
2023.06.21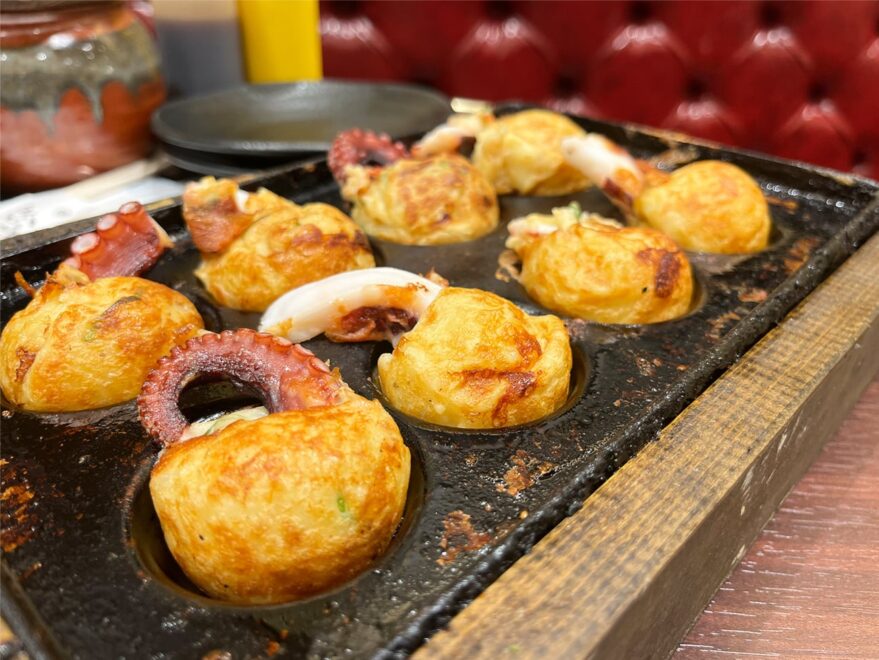 Takoyaki (savory, grilled balls of batter with octopus inside) is a street food that originated in Osaka. They feature a golden crispy exterior, with rich, hot batter, and the tender texture of octopus inside: it's a must-try dish when you're visiting Osaka! But there are so many shops in Osaka that you may not know which one to visit, and there's not enough time to visit every popular shop. If that sounds like you, you need to visit Osaka Takoyaki Market, which opened in the central Umeda area in 2022.
Osaka Takoyaki Market: A new spot in Umeda
The Osaka Takoyaki Market is located a street beside HEP FIVE, a shopping mall with a red ferris wheel. The first thing that'll catch your eye is the big takoyaki tree! It's quite a grand design, fit to call in the arrival of a new era of delicious takoyaki. The left and right sides of the sidewalk are lined with popular takoyaki shops with a central open space in between.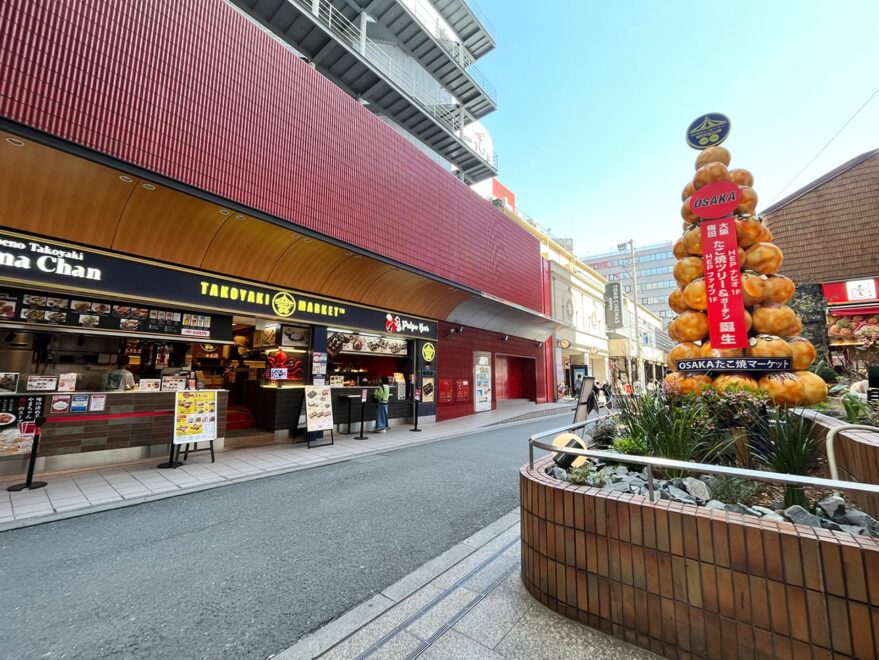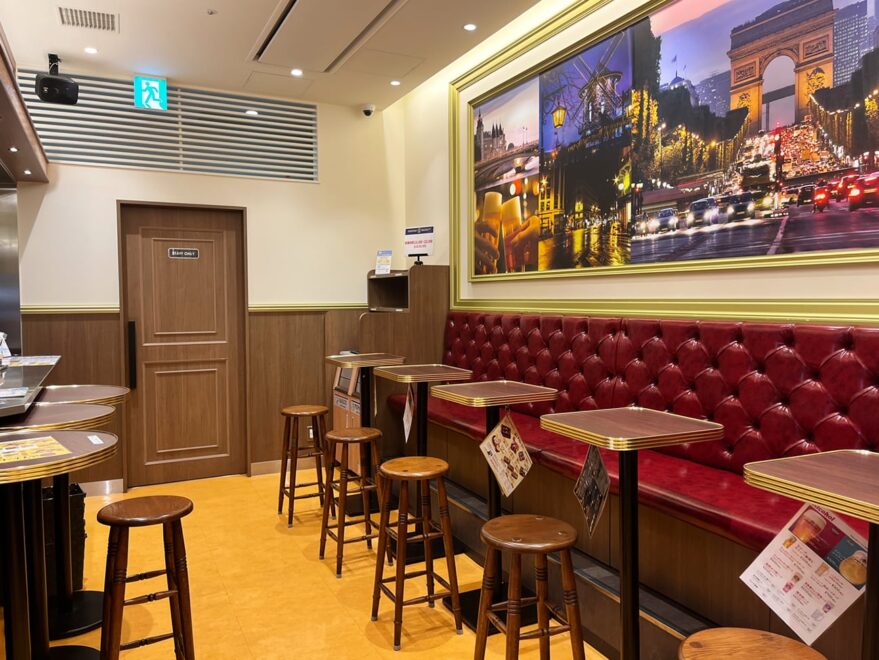 The Osaka Takoyaki Market was created to make a space in central Umeda where visitors can enjoy all the deliciousness of Osaka's takoyaki in one place. To help people find their favorite takoyaki from all the various tastes and textures, the market has selected 5 unique and popular takoyaki shops from all over Osaka. There are 100 seats available both indoors and outdoors, so you can sit where you like, regardless of the shop you buy from.
In addition to takoyaki, there's also a wide variety of drinks, including Japan's four major beers. Most of the shops here use self-service ordering machines. Tourists from overseas can easily order, too, as English menus are available throughout the market, and some shops have Korean menus, as well.
5 Popular Takoyaki Shops
What kind of popular shops were chosen from the myriad in Osaka, a battleground for takoyaki? And what menu items are best? Let's take a look!
A creative takoyaki dish! Kukuru is full of octopus flavor
Kukuru was founded in 1985 as an octopus food restaurant in Osaka's famous downtown Dotonbori street. The secret to Kukuru's deliciousness is the use of large, plump, fresh octopus, to which white wine is added as a finishing touch to bring out the flavor.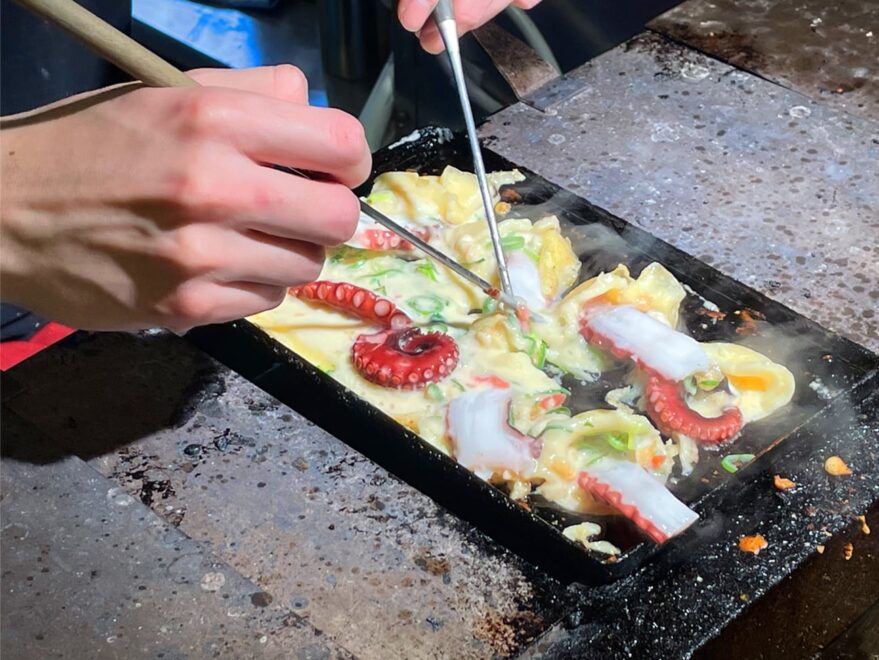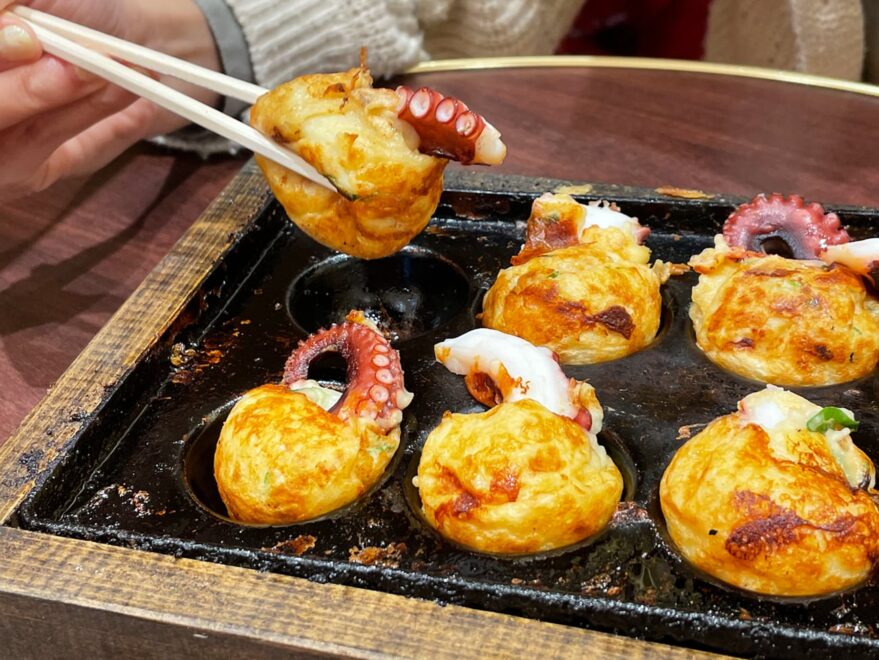 The must-eat item here is the eye-catching "Bikkuri! Takoyaki" (literally, the "Whoa! Takoyaki")!
When you see the chef adding the extra-large octopus pieces into the iron takoyaki mold, you might just start salivating. Biting into the takoyaki, seasoned to your liking with sauce and dried bonito flakes, you'll feel almost like a fresh, plump octopus is swimming in your mouth. The smooth and chewy texture is so much fun!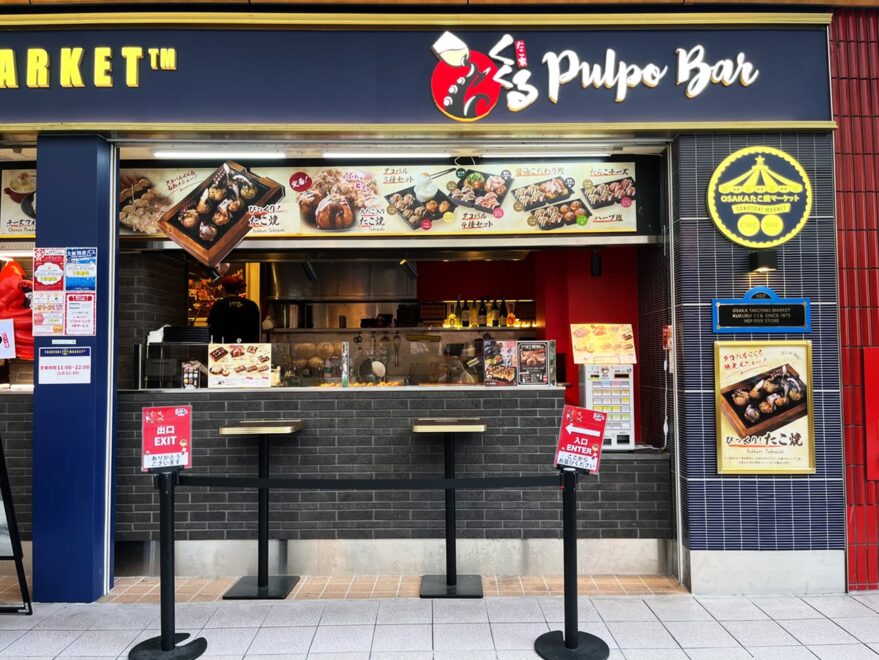 Don't miss their other creative takoyaki dishes, like cheese fondue takoyaki!
Mall: HEP FIVE
Floor: 1F
Business Hours: 11:00 a.m. - 10:00 p.m.(Last order at 9:30 p.m.)
You can't go wrong with a classic! Kogaryu, the first to cover takoyaki with mayonnaise
In 1974, Kogaryu, which originated in Osaka's fashion mecca Amerikamura (or "American Village"), was influenced by the food culture of young people in developing the now common way of eating takoyaki with mayonnaise. Their own style of mayonnaise, with its sweet and lightly tangy taste quickly shot to popularity.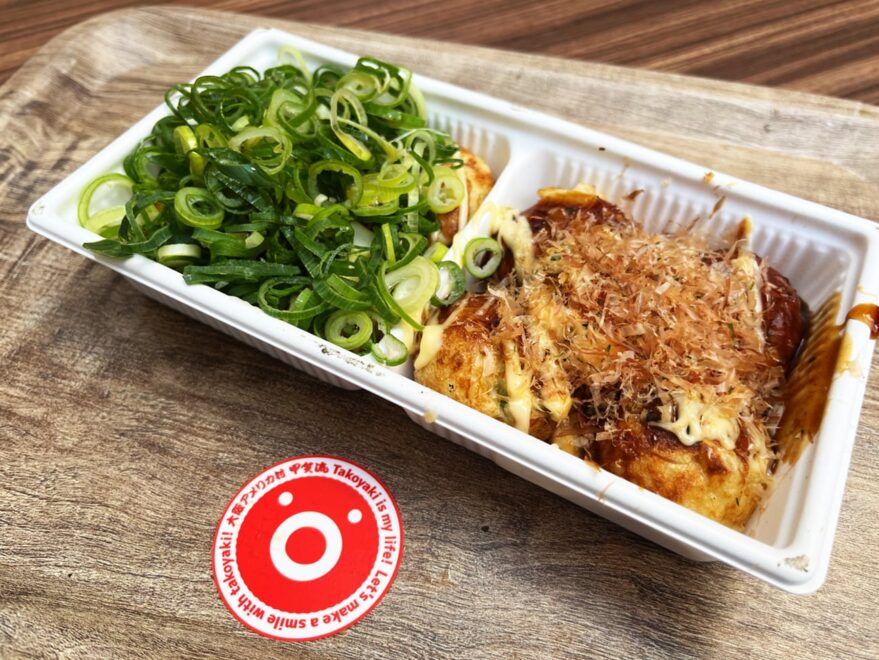 Kogaryu's most recommended dish is its "Classic sauce and mayo!" The specially-prepared sauce and Kogaryu's own mayonnaise have a rich taste that'll fill your mouth with a sweetness you won't get tired of. The next dish they recommend is "negipon." You won't be able to get enough of the refreshing taste of this dish, which combines a heaping of green onions ("negi" in Japanese) and special ponzu sauce.
If you just can't decide, try ordering the "half & half" combination, where you can enjoy both flavors at once!
★Kogaryu received the Bib Gourmand award for three consecutive years from 2016 to 2018 in the Michelin Guide.
Mall: HEP NAVIO
Floor: 1F
Business Hours: 11:00 a.m. - 10:00 p.m.(Last order at 9:30 p.m.)
*A Korean language menu is also available upon request.
Crispy goodness! Check out the skill of the takoyaki craftsman at Juhachiban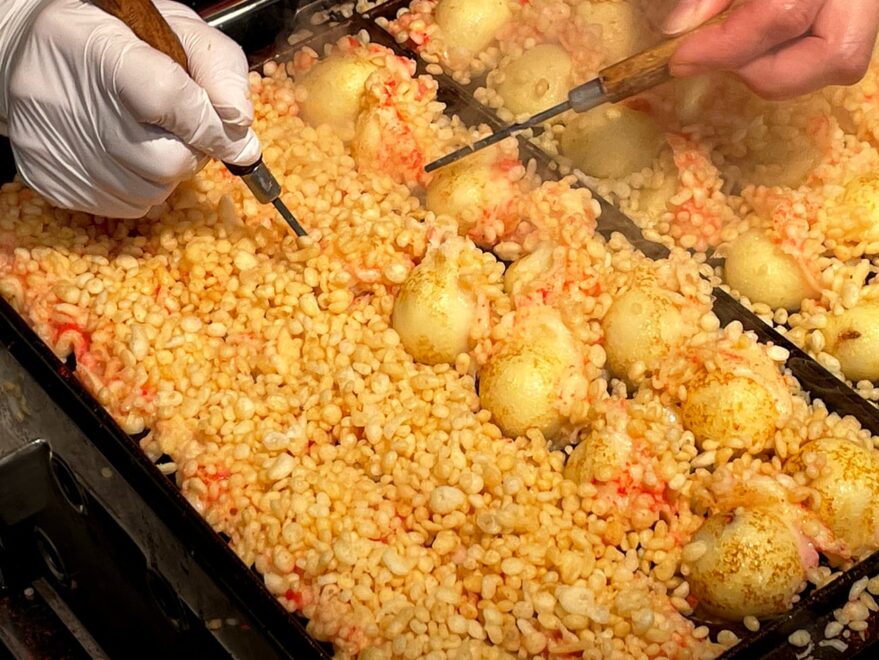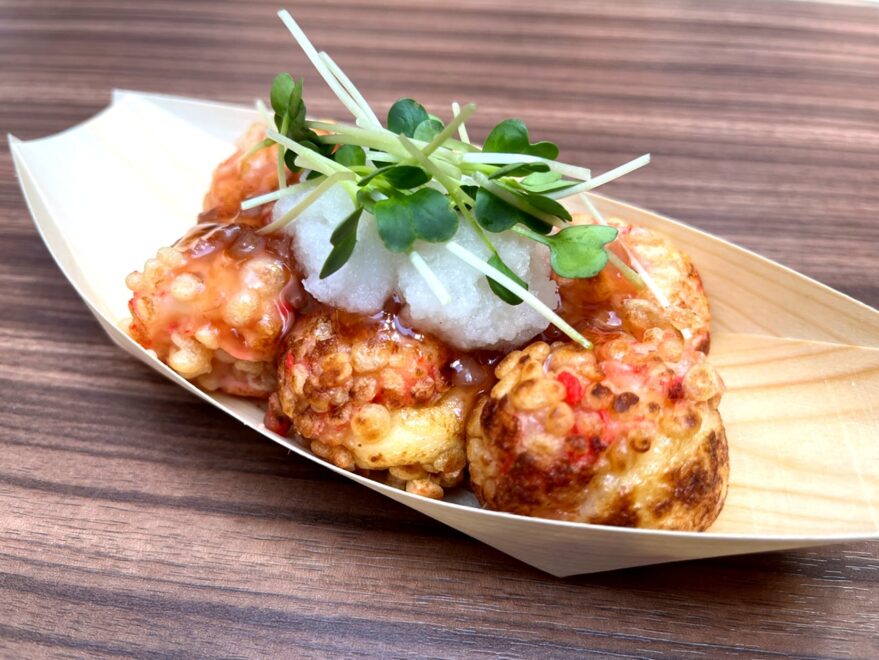 In Japanese, Juhachiban has the literal meaning of "number 18," but its real meaning here translates to "the greatest skill." As the name implies, at Juhachiban it's quite an impressive display of skill as the chefs quickly and deftly flip the takoyaki in the grill amongst the vast sea of tempura bits. Once done, the hot takoyaki comes out wrapped in tempura crumbs. You could call the unique texture of the crispy outer layer one of the biggest features of takoyaki at Juhachiban!
Be sure not to miss the Osaka Takoyaki Market-only menu item "Ume-dare"! It combines the fresh, smooth flavor of plum ("ume") with grated daikon radish for a refreshing dish. Under the crispy exterior of the takoyaki, you'll also find that Juhachiban's batter is rich and creamy.
Mall: HEP NAVIO
Floor: 1F
Business Hours: 11:00 a.m. - 10:00 p.m.(Last order at 9:30 p.m.)
This popular shop always has a line out front in Abeno, Osaka! Discover Yamachan's super delicious secret batter
Yamachan is a famous takoyaki restaurant founded in 1988 in Abeno, Osaka. The secret to its deliciousness (Yamachan is popular even in the highly competitive Osaka takoyaki market!) lies in its special batter recipe. It is made by blending chicken stock with about 10 kinds of fruits and vegetables that have been simmered for 4 hours, plus and a Japanese-style dashi soup stock made from kelp and bonito. It makes for a rich texture.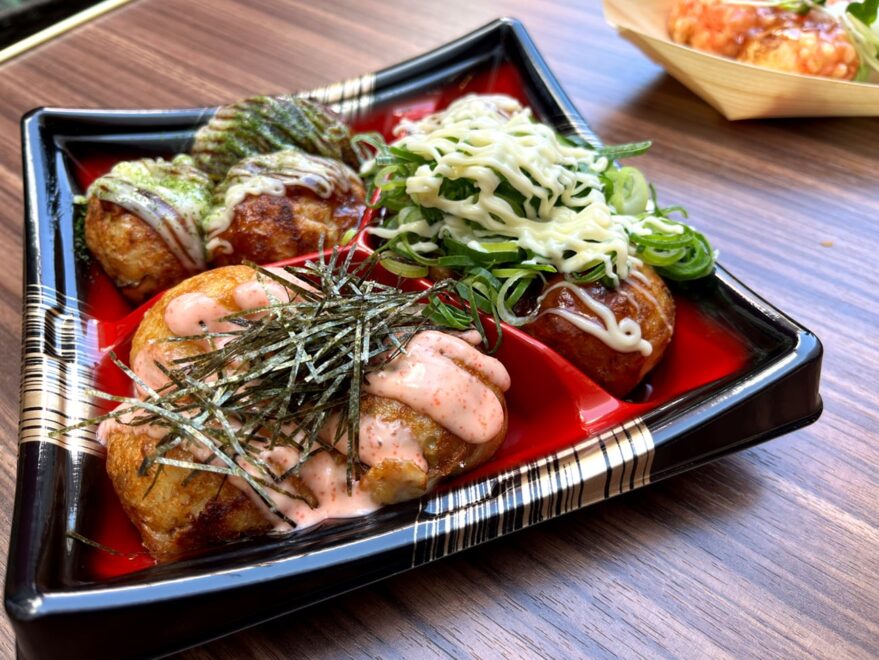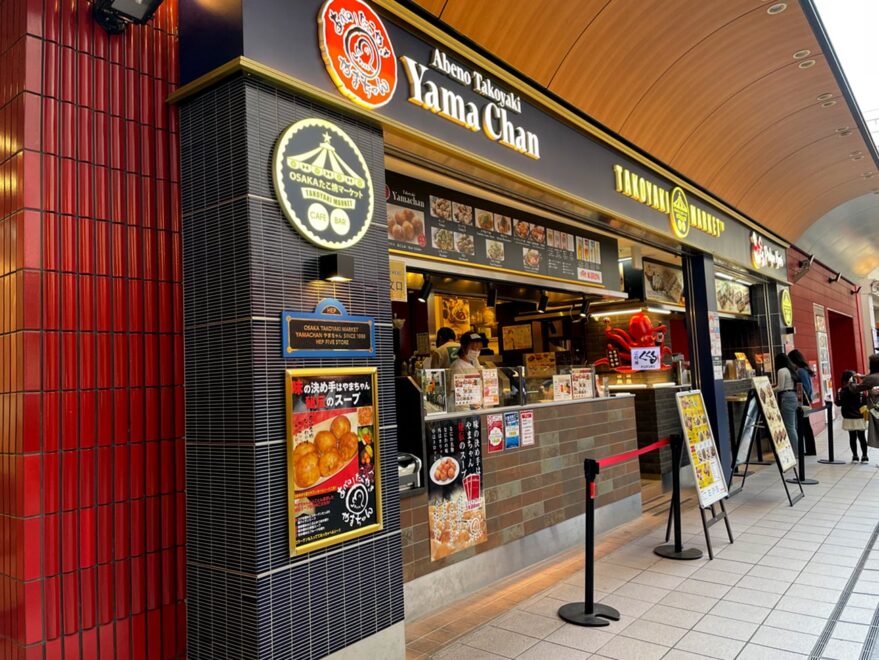 When you bite into a large piece of takoyaki, the smooth texture of the batter and the rich flavor of the dashi mix in your mouth, making for a delicious biteful even without any toppings. Here, the recommended dish is the "Yamachan Popular Three-Flavor Assortment," which allows you to enjoy three popular types of takoyaki (mega green onion, mentaiko (roe) mayonnaise, and one section with all the toppings) all on one plate.
★Yamachan received the Bib Gourmand award for three consecutive years from 2016 to 2018 in the Michelin Guide.
Mall: HEP FIVE
Floor: 1F
Business Hours: 11:00 a.m. - 10:00 p.m.(Last order at 9:30 p.m.)
The birthplace of takoyaki! The simple and authentic taste of Aizuya
Takoyaki originated here in Aizuya in 1933 when the shop's first owner, Tomekichi Endo, changed the ingredients of a local food known as radio-yaki, swapping out beef and konnyaku for octopus!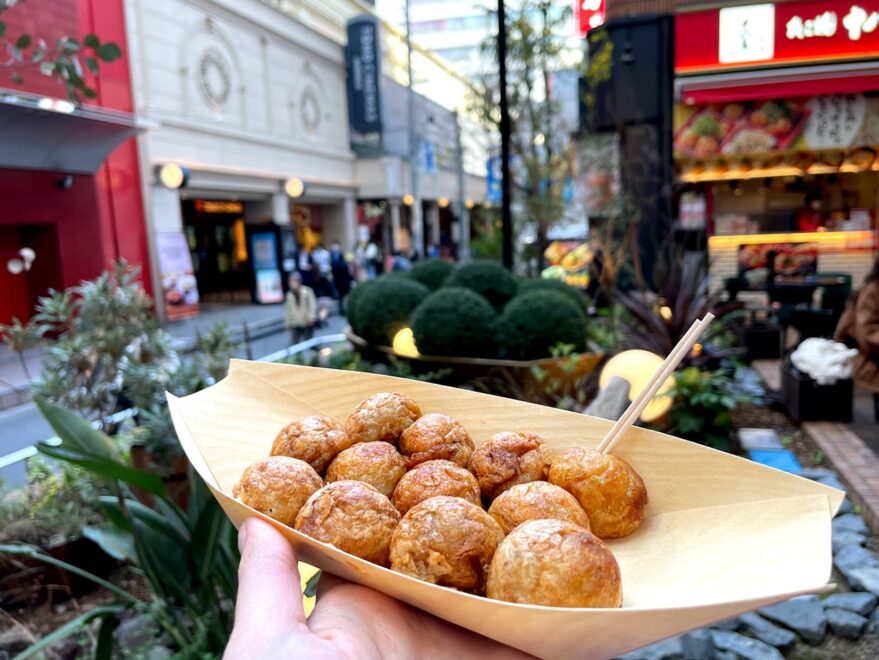 Aizuya's original takoyaki is very different from other shops, as it features only octopus! They don't use red pickled ginger, sauce, mayonnaise, or other condiments, so you can enjoy the original taste of takoyaki, as is. The difference between the thick, chewy exterior and the soft batter within gives it a rich texture. Because these takoyaki have a simple flavor and are bite-sized, you can enjoy them even after they cool down.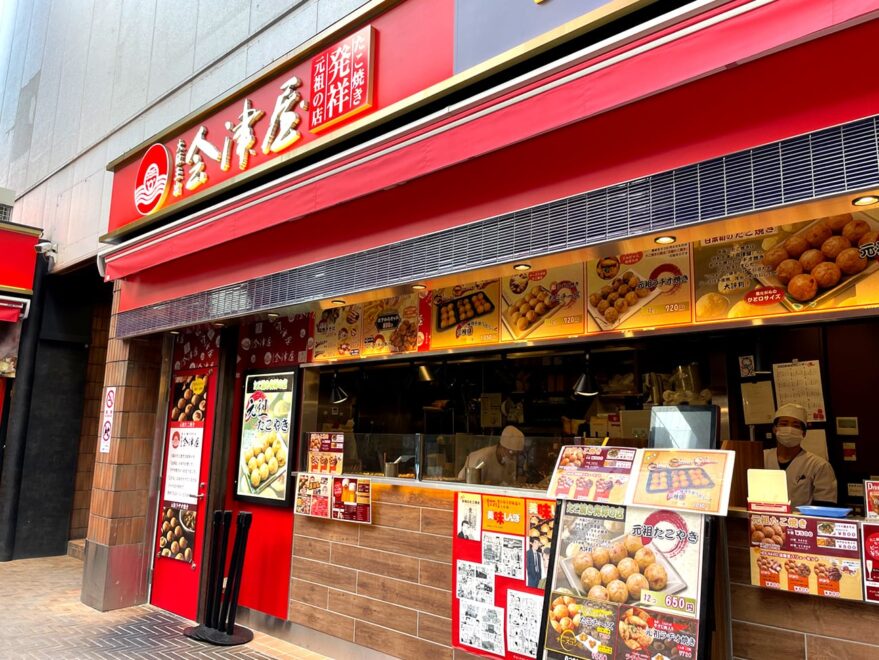 Aizuya values communication with its customers, and is the only shop in the Osaka Takoyaki Market where you order at the counter. The staff will kindly explain the menu and the history of takoyaki in English.
★Aizuya received the Bib Gourmand award for three consecutive years from 2016 to 2018 in the Michelin Guide.
Mall: HEP NAVIO
Floor: 1F
Business Hours: 11:00 a.m. - 10:00 p.m.(Last order at 9:30 p.m.)
*A Korean language menu is also available upon request.
How to get the best out of the Osaka Takoyaki Market
What's the best way to enjoy the Osaka Takoyaki Market to the fullest? We'll show you five different ways.
Take advantage of the exclusive benefits of the Osaka Takoyaki Market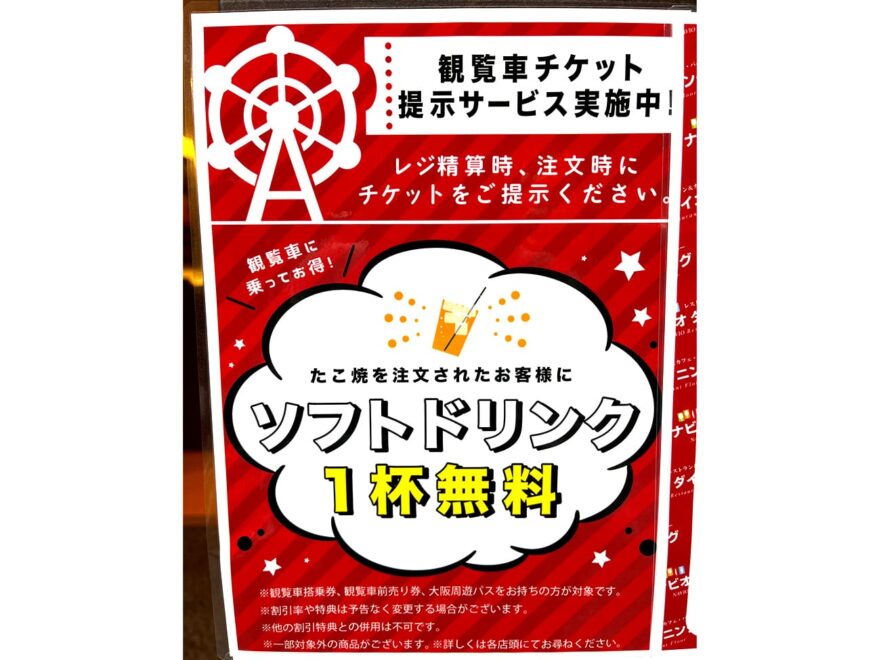 Present your ticket for the HEP FIVE ferris wheel or the Osaka Sightseeing Bus when purchasing takoyaki to get a free non-alcoholic drink.
*Campaign details are subject to change.
Appreciate the skills of the takoyaki craftsmen up close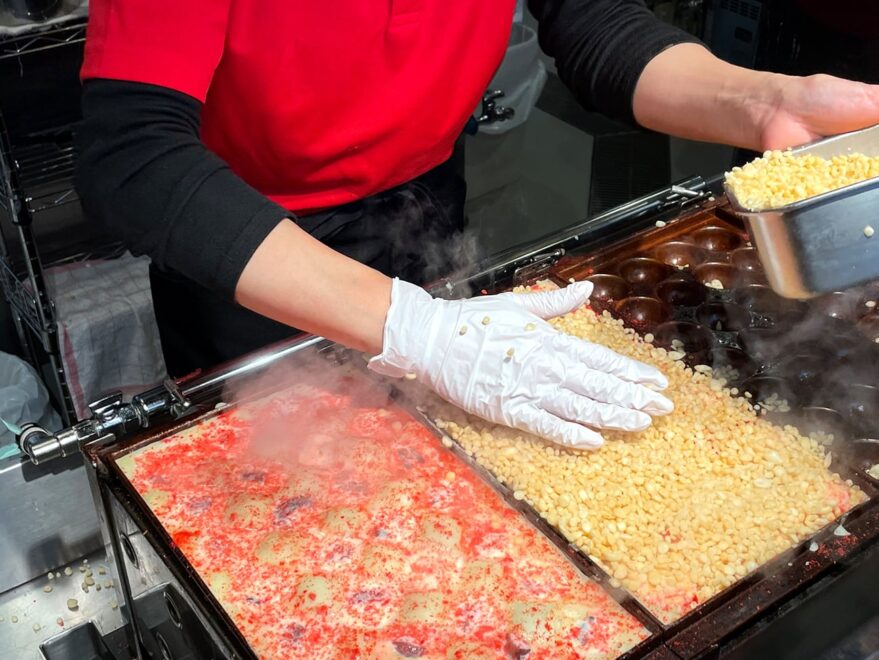 How does the batter on the iron plates turn into golden takoyaki? When ordering, don't miss watching the craftsmen making takoyaki up close!
Take Instagrammable takoyaki photos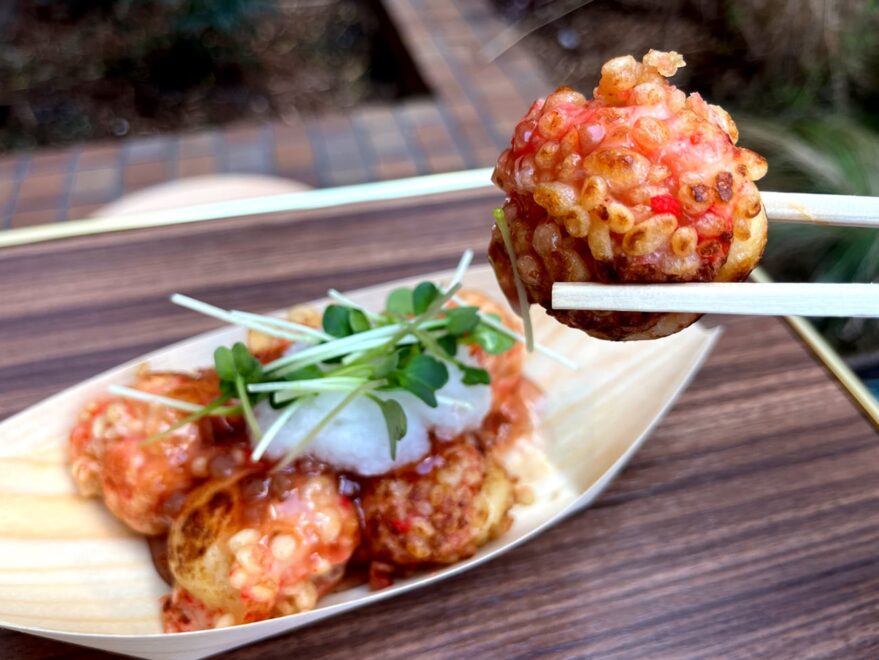 Once you have your hands on some hot takoyaki, take a tasty-looking photo and post it to social media! Whether it's a bird's-eye view composition or a close-up, take a picture with your camera that shows off this tasty treat from your Osaka trip.
Takoyaki Sampling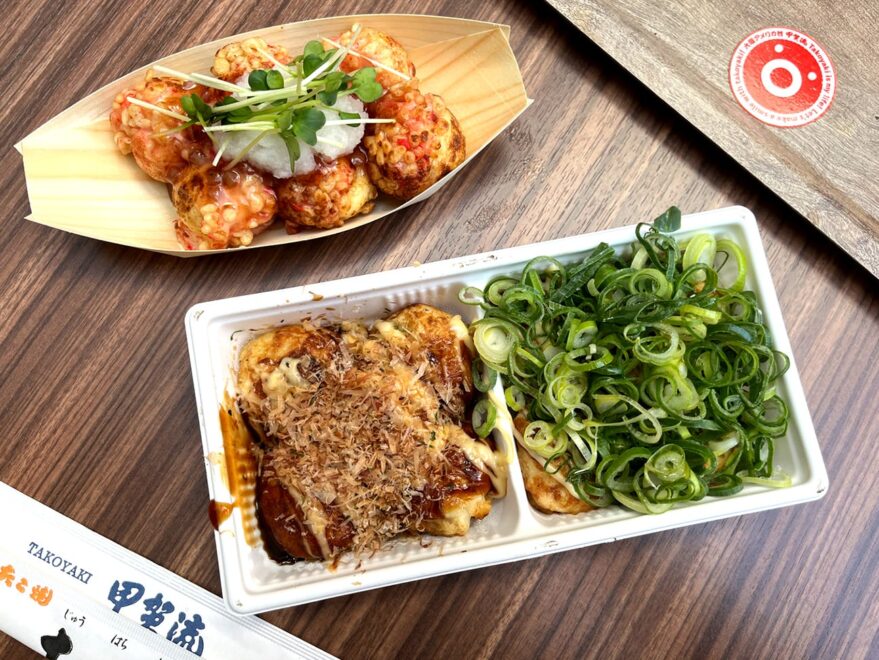 There are so many kinds of takoyaki at the Osaka Takoyaki Market that it would be a waste to eat just one! Since you've come all the way here, don't miss the opportunity to compare the flavors and characteristics of each store and find your favorite!
Enjoy your takoyaki with some sake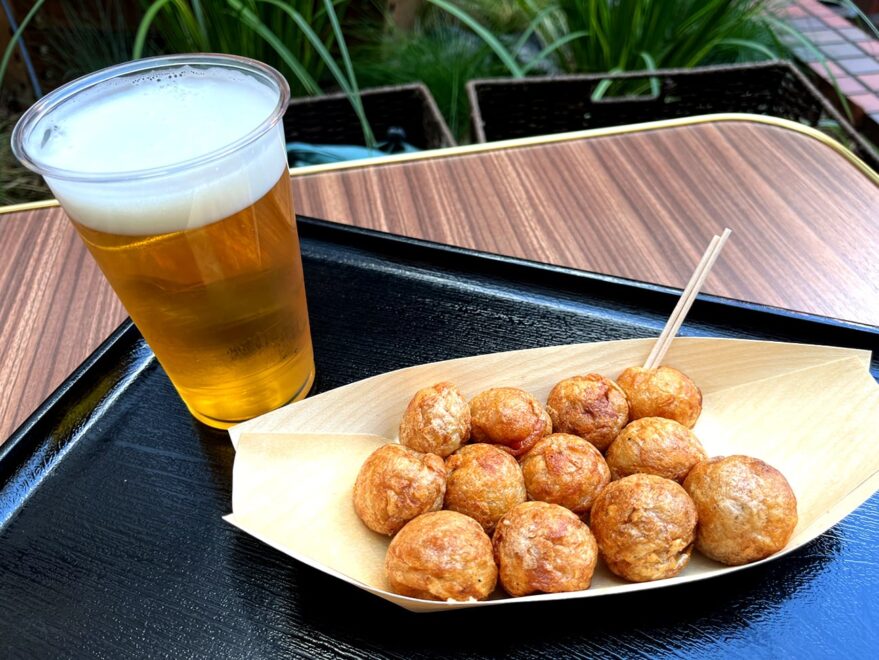 At the Osaka Takoyaki Market, you can enjoy not just eating some takoyaki, but enjoying it with beer. The four major Japanese beers, Asahi, Kirin, Suntory, and Sapporo are available, as well as wine and plum wine ("umeshu"). Find out for yourself which combination of takoyaki goes best with which drink.
Other teppanyaki dishes you can eat in Osaka
Takoyaki is not the only thing Osaka is famous for! Don't miss its other famous teppanyaki dishes (dishes prepared on a hot iron plate).
Okonomiyaki
Okonomiyaki is made by adding ingredients like cabbage, eggs, and meat to a batter, mixing them well, and grilled them into a kind of pancake on an iron plate. In the Umeda area, you can find it at the long-established, well-known okonomiyaki shops Chibo and Boteju. Chibo is so known for its okonomiyaki, it's often called "Chibo-yaki, " made using luxurious ingredients including beef, pork, shrimp, and octopus.
Chibo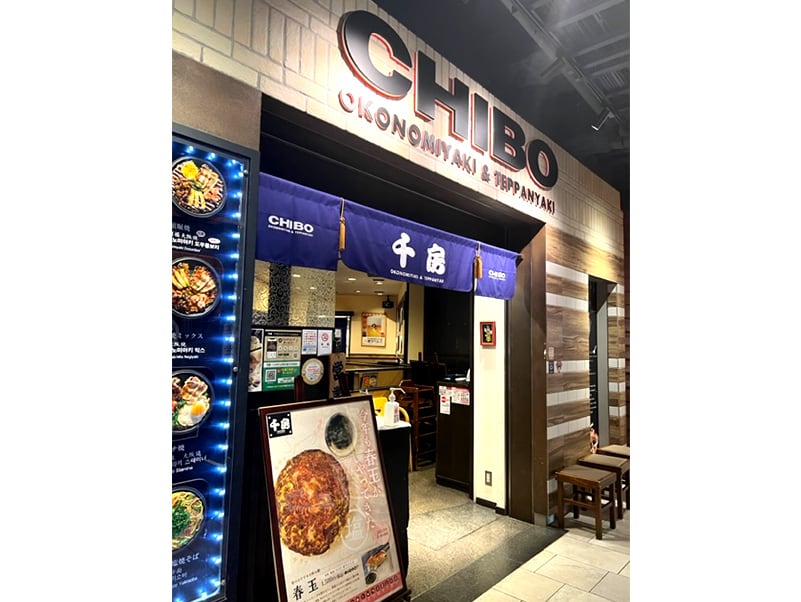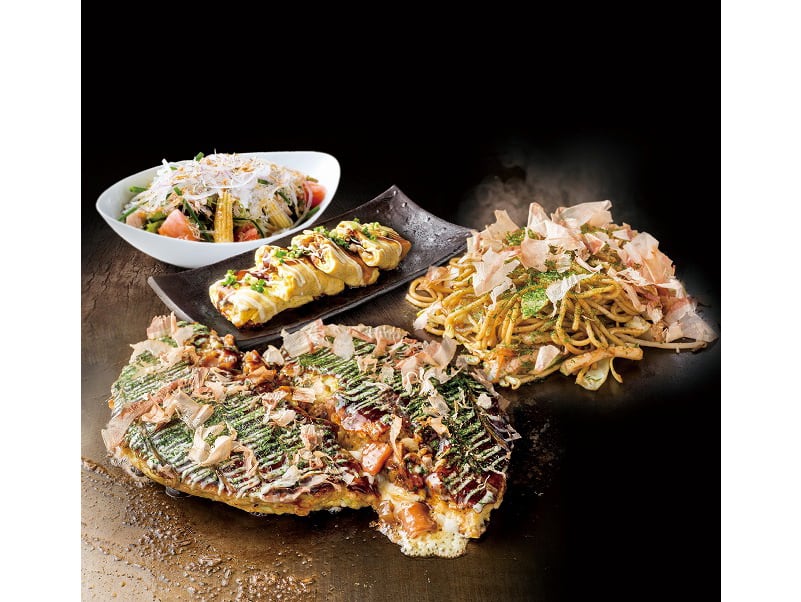 Mall: HERBIS PLAZA
Floor: B2
Business Hours: Weekdays 11:00 a.m. - 3:00 p.m. (Last order 2:30 p.m.), 5:00 p.m. - 11:00 p.m.(Last order at 10:00 p.m.) / Weekends and public holidays 11:00 a.m. - 11:00 p.m. (Last order at 10:00 p.m.)
Boteju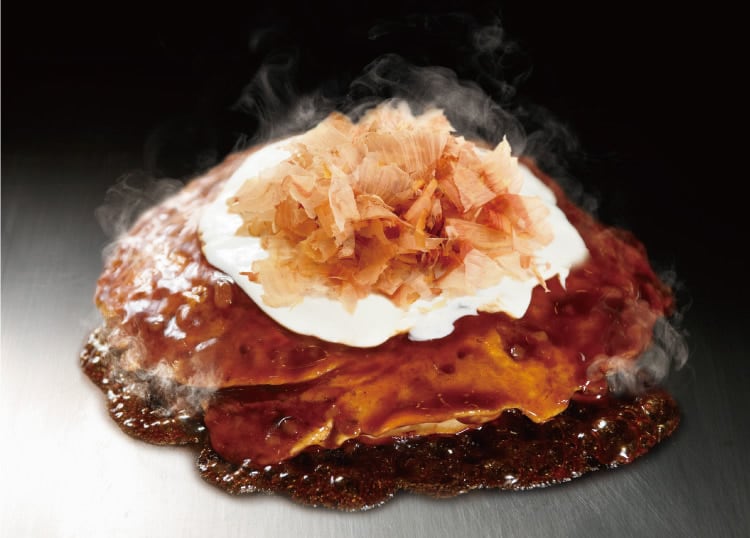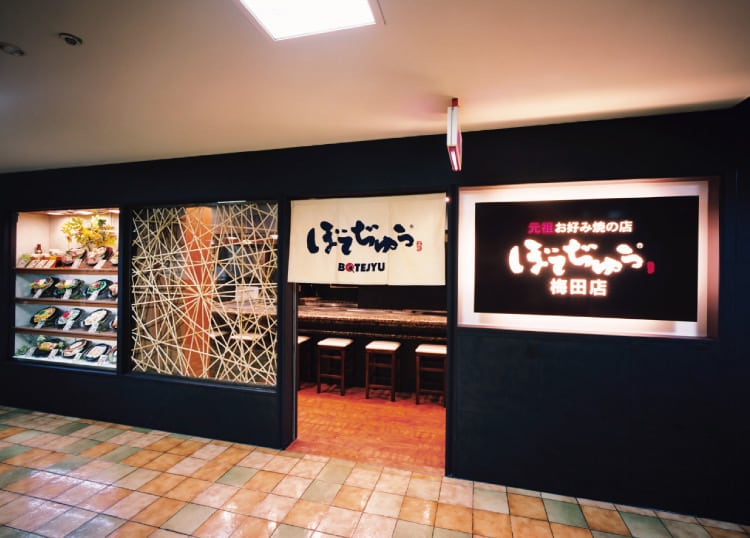 Mall: HANKYU SANBAN GAI
Floor: South Building B2
Business Hours: 11:00 a.m. - 10:00 p.m.(Last order at 9:30 p.m.)
Akashiyaki
Akashiyaki is a local dish from Akashi City in Hyogo, the prefecture that neighbors Osaka. Like takoyaki, akashiyaki contains octopus, but the batter is egg-based and is eaten with a Japanese-style soup. At Bubu-tei in HANKYU SANBAN GAI, you can enjoy delicious akashiyaki made with Japanese-style soup stock from the famous Japanese restaurant Kawatomi.
Bubu-tei
Mall: HANKYU SANBAN GAI
Floor: South Building B2
Business Hours: 11:00 a.m. - 10:00 p.m.(Last order at 9:30 p.m.)
Conclusion
The Osaka Takoyaki Market is not just a place to eat takoyaki, but also a place for social gathering. Why not make the most of your time with your family and friends, chatting and savoring Osaka's soul food?
If traveling to Osaka by bullet train, from Shin-Osaka Station you can access Osaka's Umeda district by JR train or by taking the Midosuji Subway Line to Umeda station.
If you are traveling from Namba Station, take the Midosuji or Yotsubashi Subway Line to Umeda or Nishi-Umeda Station, or take the Hanshin Namba Line to Osaka-umeda Station.
From Kansai International Airport, you can reach Osaka Station in about one hour on the JR Airport Express Haruka.
For more information on Umeda, check out some of our Trip Ideas.
*Business hours may be altered due to the ongoing COVID-19 pandemic.
*Information in this article is accurate as of the date of posting. There is a possibility that details regarding these products and services have changed, or that some shops have since closed.
An Upscale Shopping Experience
Why Umeda is Osaka's
shopping destination
Coupons
All Mall Coupon
500 yen off
This coupon can be used in the following 6 shopping malls: :
GRAND FRONT OSAKA SHOPS & RESTAURANTS, HANKYU SANBAN GAI,
HEP FIVE, HERBIS PLAZA/PLAZA ENT, NU chayamachi / NU chayamachi PLUS and Diamor Osaka